Reserve your hotel room early! We expect the hotel to sell out,
and you can always cancel later!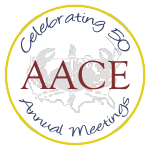 Mark your calendar for the 2016 International Cancer Education Conference (ICEC), to be held in Bethesda, Maryland, 14 – 16 September 2016. The 2016 ICEC will be co-organized by the American Association for Cancer Education (AACE) and the Cancer Patient Education Network (CPEN). The conference will be accredited to provide continuing education credits for physicians, nurses, CHES professionals, and social workers. In addition, this conference will be AACE's 50th Annual Meeting, and we will be planning some very exciting celebrations to recognize this!
Important Dates
Abstract Submission Opens: Late January 2016
Abstract Submission Closes: 11 April 2016
Registration Opens: early May 2016
Abstract Notifications Sent: early May 2016
Late-Breaking Poster Abstract Submission Opens: June 2016
Final Program Posted: late June 2016
Early Registration Deadline: 11 July 2016
Late-Breaking Poster Abstract Submission Closes: 1 August 2016
Late-Breaking Poster Abstract Notifications Sent: late August 2016
Regular Registration Deadline: 15 August 2016
Hotel Reservation Deadline: 19 August 2016